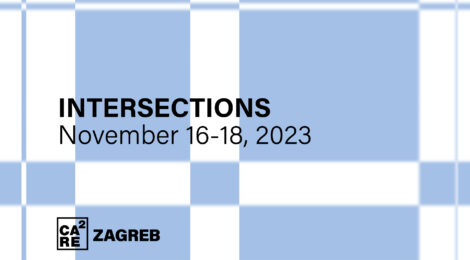 CA²RE @ Zagreb 2023-Nov-16-18
INTERSECTIONS
We are happy to announce the 14th CA²RE conference under the topic INTERSECTIONS. The conference is hosted by the University of Zagreb Faculty of Architecture and takes place November 16-18 2023. The events are organized in association with ARENA, EAAE and ELIA.
Important dates:
Jul 14, 2023: Publication of Call
Aug 25, 2023: Abstract submission
Sep 30, 2023: Registration opens
Nov 03, 2023: Registration deadline
Nov 16–18, 2023: Conference
The 14th CA2RE conference looks at INTERSECTIONS of research: interdisciplinary and intermedial thinking and doing, research conducted within and outside academic frameworks, research impacting broader communities, facilitating European agendas. It also reflects on the learnings of the Erasmus+ project focusing on design-driven doctoral research to arrive at broader lessons of future methodological framing.
Organizing Committee
Conference chairs: Mia Roth-Cerina & Kristina Careva
Advisory board: Joerg Schroeder, Tadeja Zupancic, Roberto Cavallo
For more information please go to the conference website at https://zagreb.ca2re.eu/
or contact: mroth@arhitekt.hr