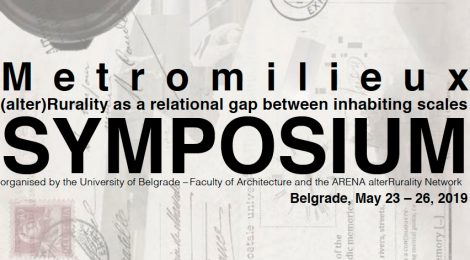 Métromilieux Belgrade 2019-May-23-26
Métromilieux
(alter)Rurality as a relational gap between inhabiting scales
SYMPOSIUM
Belgrade, May 23-26, 2019
The University of Belgrade –  Faculty of Architecture
ARENA, Architectural Research European Network Association, alterRurality network.
Key-words
(alter)Rurality, post-urban, human habitat, resilience, innovation, architecture, territorial planning, human geography, economy, cognitive psychology, digital arts and media.
Full information:
https://alterruralityarena2019belgrade.wordpress.com
PDF Booklet:
metromilieux_print_as_booklet.pdf
 The contemporary notion of rurality is tensioned between intelligences of autonomy and networking. Rural space is disposing stability in terms of specific economical units – from household to local community, closely networked in the nexus of rural environment. On the other hand, rural space is connected to numerous economical, socio-political and cultural relations to urban conditions, both considered necessary and more and more endured as constraints. This tension is ambiguous – simultaneously problematic and nourishing for rural life modalities. It results in peculiar mechanisms and procedures inherent to situations of in-betweens – often of largely understated importance, such as that of food economy systems entirely disconnected from local stakes.
We are here emphasizing the aspect of economic reasoning on the fringe of two distant scales of inhabited environment – connected to the urban in the sense of a metropolitan inscription in global economy and local with the connotation of ambiental rooting. The metropolis, etymologically a mother-city, is one of problematic contemporary connotations: of size, of polarity, of exemplarity, single unit of global financial economic and political power. The metropolis of today tends to substitute itself to the welfare-state in an unprecedented neo-liberal growth race. It has annexed, absorbed rural space, nature, and the entire biosphere as its economic, political and socio-cultural sub-system. Rural space has become a resource landscape for urban use within metropolitan/global economical growth purposes: a space providing production of consumables and energy, housing, leisure and holiday resort, depository of pollution, waste and rejections (Guillot/Versteegh).
Rather than opposing two scales (in their geographic meaning of qualities) of inhabited environments in a binary lock-in inevitably returning to this predominant figure of rural resource landscape, we introduce the notion of metromilieu, let us say metro-environment in English. The stronger French term metromilieu, by is pleonastic character, emphasizes its etymological meaning of a motherly, uterine space or environment. It opposes the predatory polarity of the metropole competing for global productive power and suggests a smoother continuity of connectedness – always umbilically related to earth as a complex finite motherly state of precarious nature sustained by collaboration and surrounded by care. A metromilieu is an environment that houses scales of locally rooted, bottom-up phenomena of resilience, giving them meaning within a new global economic construct – searching global compatibility without giving away to global neoliberal growth economy.
Through the notion of Metromilieu or Metroenvironment we want to invest the current relational gap between inhabiting scales while giving it a globally compatible and holistically constructed identity. Within a school of architecture, this means that the ancient paradigm of the house on a site, of the city in a landscape needs to be deconstructed, that a new paradigm needs to be constructed from a holistic, that is a broad interdisciplinary field.
Four sub-themes will be developed by guest key-note workshop and/or round table leaders:
Assembling Rurality in the Metro-Milieu (Professor Michael Woods, Human Geography)
Architecture, Design and Cognition (Professor Vasilije Gvozdenović, Cognitive psychology)
Alter-digital – presence and the role of digital art in rural environment (Professor Nataša Teofilović, Digital and hybrid art)
Commons and care (to be announced, economics)
Event research concept: results through reversed interdisciplinary praxis
This event seeks to invent new forms of collaboration connecting research, teaching and practice, locally and internationally, engaging 2nd and 3rd cycle studies. Whereas in architecture the contributions of "other" disciplines are often viewed as peri-disciplinary services, we will explore a reversed interdisciplinary approach where the "other" discipline takes a central position.
new or reversed interdisciplinarity: work as architects under leadership of a different discipline, from a different disciplinary angle, along specific sub-themes;
working on a rooted site in multi-scale specific (alter)rural settings;
key-note conferences, workshops, round tables, exhibition, walks, debates;
a publication is intended to follow.
Venue
The University of Belgrade – 

 

Faculty of Architecture
Bulevar kralja Aleksandra 73/II Belgrade, Serbia
Organizing committee
Anđelka Bnin-Bninski
Ksenija Pantović
Ana Raković
Key-note guests
Pieter Versteegh
Architecture and rural planning
Michael Woods  

 


Human geography (sub-theme 1)
Vasilije Gvozdenović
Cognitive psychology (sub-theme 2)
Nataša Teofilović
Digital and hybrid art (sub-theme 3)
to be announced
Economics (sub-theme 4)
Scientific committee
Vladan Đokić, University of Belgrade
Pieter Versteegh, ARENA / Psyché, Fribourg
Chris Younès, GERPHAU, ESA Paris, ARENA
Zoran Lazović, University of Belgrade
Ana Nikezić, University of Belgrade
Sophia Meeres, UCD Dublin, ARENA
Dominic Stevens, DIT Dublin, ARENA
Ben Stringer, Westminster University, ARENA
Michael Woods, Aberystwyth University
Nataša Teofilović, Faculty of Media and Communications, Singidunum University, 

 

Belgrade
Vasilije Gvozdenović, University of Belgrade
Đorđe Stojanović, University of Belgrade
Anđelka Bnin-Bninski, University of Belgrade, GERPHAU, ARENA
Abstract submission
The call for participants is open to students, researchers and practitioners of any discipline feeling related to the theme of the event. Participation proposals (abstracts) should state a research intention or subject and should explicitly develop how/why they respond to the main theme and one of the sub-themes.
Submissions should comply to the following:
abstract maximum 3'000 characters;
mention of the chosen sub-theme, name of the author, short bio-note (max 800 characters) institution or organisation, contact information;
up to 3 images are welcome (300 Dpi Jpeg);
Word format, Arial 10, flush left,
deadline for submission: March 29th, 2019.
submission: a.cirovic@arh.bg.ac.rs
Organisers reserve the right to alter sub-themes or sub-theme distribution of if needed for logistic reasons.
Calendar
submission of proposals: March 29th, 2019
notification of acceptance : April 12th, 2019
event registration (early birds): April 17th, 2019
event registration closure: May 3rd, 2019
participation fee
30€ early-bird, national
150€ early-bird, international
50€ full registration, national
200€ full registration, international
payment information available on the event website