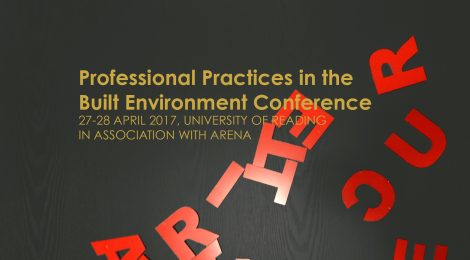 Professional Practices 2017-APR-27-28
Professional Practices in the Built Environment Conference
27-28 APRIL 2017, UNIVERSITY OF READING, IN ASSOCIATION WITH ARENA
The nature and value of professional judgment and knowledge is increasingly being called into question as new technologies give access to new ways of working. This conference provides an opportunity for practitioners and academics to come together to understand and learn from different models of professionalism across Architecture and the Built Environment, over time and across the globe. The conference is part of the AHRC funded Evidencing and Communicating the Value of Architects project.
To register attendance please go to the conference website
or contact us at architecture@reading.ac.uk or +44 (0) 118 378 7344
KEYNOTE SPEAKERS
Peggy Deamer
Peggy Deamer is Professor of Architecture at Yale University. She received a B.Arch. from The Cooper Union and a Ph.D. from Princeton University. She is a principal in the firm of Deamer, Architects. She is the editor of Architecture and Capitalism: 1845 to the Present and The Architect as Worker: Immaterial Labor, the Creative Class, and the Politics of Design. She is co-editor of Asymmetric Labors: The Economy of Architecture in Theory and Practice, Building in the Future: Recasting Architectural Labor, and BIM in Academia. She is the founding member of the Architecture Lobby, a group advocating for the value of architectural design and labor. Her current research explores the relationship between subjectivity, design, and labor in the current economy
Roger Flanagan
Roger Flanagan is a Professor at the School of Construction Management and Engineering, University of Reading, UK. He was President of the Chartered Institute of Building in 2006-2007. He is a Visiting Professor at the Tsinghua University, Beijing, University of Hong Kong, Universiti Teknologi Malaysia, University of New South Wales, Australia, and Chongqing University. Previously Visiting Professor in USA, Sweden, Norway, Kenya, South Africa, Turkey, and Croatia.
Roger's industrial experience includes previously being a member of the Board of Directors of Skanska AB for 10 years and a non-executive member of the Board of Directors of Halcrow Group (now CH2MHill) for 7 years. He has been a member of Board of Directors and Advisory Board member in USA, South Africa, Switzerland, Canada, and UK.
He has experience of working in UK, Middle East, USA, Canada, Sweden, Finland, Norway, South Africa, and has undertaken studies for the development of the construction industry in the UK, Canada, Malaysia, Sweden, Norway, and Estonia.
Rob Imrie
Rob Imrie is Visiting professor in the Department of Sociology at Goldsmiths University of London and was previously professor of Geography at King's College London. He has recently completed a European Research Council funded project about 'universalism and universal design', and he is co-editor of the just published book Care and Design: bodies, buildings, cities (Wiley & Blackwell, 2017). He has a background in geography, sociology, and urban studies, and he has written widely about issues relating to regulation and urban design, architecture, and the built environment, including the book Architectural Design and Regulation (Wiley & Blackwell, 2011), co-authored with Emma Street.
Helga Nowotny
Professor Helga Nowotny is Former President of the European Research Council, ERC, and Professor emerita of Science and Technology Studies at ETH Zurich Currently she is Nanyang Technological University Visiting Professor, Chair of the ERA Council Forum Austria, member of the Council for Research and Technology advising the Austrian government and Vice-President of the Council for the Lindau Nobel Laureate Meetings. Her latest book The Cunning of Uncertainty was listed by the Financial Times as one of the five best books in the category science and will be released as paper back by Polity Press in 2017.
Hans Wamelink
Hans Wamelink, PhD, is Professor of Design & Construction Management and head of the Department 'Management in the Built Environment', Delft University of Technology (TUD). After finishing his PhD at the TUD he worked for ten years as an assistant professor and researcher at the Faculty of Technology Management of the Eindhoven University of Technology (TUE). Apart from his academic career, Hans was owner-director of Infocus and senior consultant at DHV, both companies specialized in consultancy and building management. Currently his research focuses on process innovation in design and construction. Research projects are 'new roles and business models for architectural firms', and 'collaboration and integration in the construction supply chain'.
CONFERENCE PAPERS
Nature of the professions
What is the future of professional practices in the built environment? | Hans Haenlein
Teaching tomorrow's architects: How relevant are current models of professional education to the world of global architectural practice? | Stephen Brookhouse
An Historical Episode in the Future of Professional Practice | Neal Shasore
Architects with borders – developing a sharing economy | Nikki Linsell
The Rebirth and Theory of Civic Architecture | Patrick Lynch
Challenges in the business models of architectural firms | Marina Bos-de Vos, Leentje Volker, Hans Wamelink
Making space, adding value: locating and defining the 'creative space' of spatial production | Elantha Evans
A complex Adaptive Profession | Robert Hyde
Conditions for collaboration
Portfolio Professionals in the digitised Built Environment | Alex MacLaren, Tom Bartley, Dwight Wilson, Neil Thompson, Sarah Birchall
The good client: How architect-client dynamics mediate attention for users | Valerie Van der Linden, Hua Dong, Ann Heylighen
Constructive Collaboration: Solutions for Delivering Collaborative Success in Practice | Andrew Wright
Towards a professional map for specifying and actively measuring behaviours for collaboration | Elizabeth Kavanagh
Re-imagining the Future of Cities Using Urban Foresight Techniques: Towards a Smart and Sustainable Reading 2050 | Tim Dixon, Lorraine Farrelly, Richard Webb, Nigel Horton-Baker
Joint venture teams | Sunila Lobo and Roger Flanagan
Reviving collaboration: The case of housing-led regeneration | Elanor Warwick
Navigating between network and profession: how architects pursue desired roles | Marina Bos-De Vos and Bente Lieftink
Knowledge sharing and development
Knowledge and architectural practice | Johan Verbeke
Methodological Dynamics: Theory-Fiction and Speculative Design Research | Derek Hales
Transitioning the Live Project: A Proto-Practice Environment | Michael Davies & Aaron Paterson
A collaborative approach to POE | Kristina Roszynski and Trevor Keeling
Designing with care: Hospice design since 1980 | Jane Darbyshire, Mura Mullan, Soo Darcy, Peter Holgate, Julie Trueman
Developing wellbeing valuation practices in the built environment | Kelly Watson
Procurement routes and building performance | Julie Godefroy
The client, organization and the project – Architects' valuation of energy modelling adoption across four UK firms | Sonja Oliveira, Martin Sexton, Elena Marco and Bill Gething
What are the benefits for small practices in developing independent critical research? | Dinah Bornat
Design System Assemblages – the continuous curation of Design Computation Processes in Architectural Practice | Frans Magnusson, Jonas Runberger
The reluctant supply chain | Irena Bauman
The City of Time: site, shell, services, scenery, and stuff and then what? | Andrew Harrison, Stephen Greenberg, Steven Smith